World Premiere of "GLICKMAN" by James L. Freedman
January 29, 2012
Ben Hyatt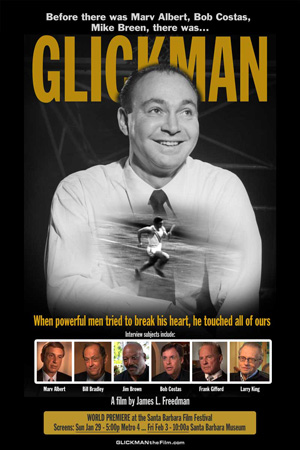 A great story that needed to be told. James L. Freedman puts together archived footage and stills of the late Marty Glickman along with interviews with many of the contemporary sportscasters that he influenced. The result is an inspiring story of a man who faced many obstacles in life yet seemed to always come out on top. It's a true story of a man that was intensley loyal to those around him and a man whose influence can still be seen and heard in every football or basketball broadcast today.
Film Synopsis
Glickman is the triumphant story of the great Marty Glickman, a record-setting Jewish sprinter who was dropped from America's Olympic relay team during the 1936 Nazi Olympics in order to appease Adolph Hitler. However, this incident did not dampen Marty's love for sports, and he went on to become a beloved sports announcer revolutionizing sports broadcasting by inventing such classical basketball terms as "swish!" In his legendary fifty year career, he would become the beloved voice of the New York Knicks, Giants, and Jets, and would later go on to create HBO Sports.
This extraordinary film will be making its world premier at the Santa Barbara International Film Festival on Sunday, January 29 at 5:00pm at the Metro 4
The documentary features interviews with: Bob Costas, Jim Brown, David Stern, Larry King, Charley Steiner, and others. The film, written, produced and directed by James L. Freedman (Cybill, Coach, & Zoe), is scored by David Carbonara, composer of the critically acclaimed and Emmy and Golden Globe winning TV series Mad Men.
Trailer
Santa Barbara based Ben Hyatt is founder of SantaBarbarians and gets to write about whatever interests him as a result. Interests include business, technology, film and anything community related.