'The Bet' | Santa Barbara Made Film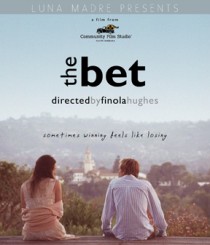 The Community Film Studio Santa Barbara is the world's first attempt to form a motion picture company based on the model of a traditional community theater. A non-profit organization, CFSSB brings together volunteers, both seasoned professionals and enthusiastic newcomers, to create original feature films instead of stage plays. The Bet is the very first film to result from this experimental approach to filmmaking.
Written by CFSSB member, Annie J. Dahlgren, and directed by Emmy Award-winning actress Finola Hughes, this light-hearted romantic film tells the story of a suburban teenager and his grandfather who place a wager to see who will be the first to find love.
Two World Premiere screenings took place at Santa Barbara's historic Arlington Theatre - April 19th and 20th. A Sneak Preview Gala/Fundraiser took place April on April 4th at the Bacara.
'The Bet' | Trailer
To learn more, visit the film's website http://www.thebetmovie.com
Santa Barbara based Ben Hyatt is founder of SantaBarbarians and gets to write about whatever interests him as a result. Interests include business, technology, film and anything community related.