'McFarland, USA' with Kevin Costner - Closing Night Film at SBIFF 2015
February 7, 2015
Ben Hyatt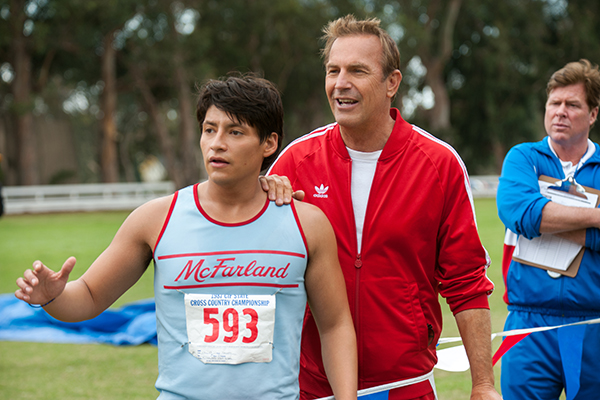 Inspired by the 1987 true story, MCFARLAND, USA follows high school coach Jim White (Kevin Costner), whose job-hopping leads him to predominantly Latino McFarland High School, located in an agricultural community in California's farm-rich San Joaquin Valley.
Jim knows he has to make this school his last stop – he's out of options, with both his career and his family and finds himself in a diverse, economically-challenged community that feels worlds apart from his previous hometowns. Admittedly, the White family and the students have a lot to learn from each other — but when Coach White notices the boys' exceptional running ability, things begin to change. Soon something beyond their physical gifts impresses White – the power of family relationships, their unwavering commitment to one another, and their incredible work ethic. With grit and determination, Coach White's unlikely band of runners eventually overcome the odds to forge not only a championship cross-country team, but an endearing legacy as well. Along the way, Jim and his family realize that they finally found a place to call home and both he and his team achieve their own kind of American dream.
'McFarland, USA' | Trailer
Kevin Costner Interview on the Red Carpet
YTS Digital Films
About The Film
Writer: Grant Thompson, Christopher Cleveland, Bettina Gilois
Director: Niki Caro
Cast: Kevin Costner, Maria Bello, Morgan Saylor
Run Time: 128 min
Year Completed: 2015
Country of Origin: USA
Premier Status: US Premiere
Santa Barbara based Ben Hyatt is founder of SantaBarbarians and gets to write about whatever interests him as a result. Interests include business, technology, film and anything community related.