'Bang Bang Baby' | Feature Film at SBIFF
February 6, 2015
Ben Hyatt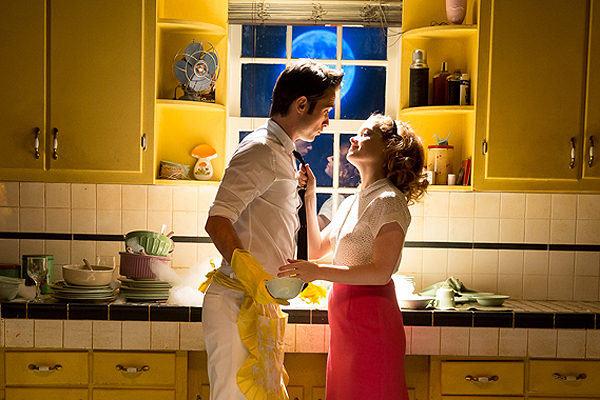 The Panavision Spirit Award for Independent Cinema Winner - SBIFF 2015. For full info on the award please scroll down.
One of the most brazenly original cinematic voices to emerge from Canada in the last decade, Jeffrey St. Jules is known for his unusual, highly stylized short films, which are stacked with wry humour and cheeky experimentation with form. His much-anticipated debut feature, BANG BANG BABY, not only delivers on but exceeds the promise of his short work: St. Jules has created a sly, genre-twisting musical about big hopes and busted dreams, set in an off-kilter, surreally detailed vision of the 1960s.
In the fictional Canadian town of Lonely Arms in 1963, sweet and prim high-schooler Stepphy (Jane Levy) devotedly cares for her alcoholic father (Peter Stormare), tends to his auto-service shop, and, like most girls her age, adores heartthrob singer Bobby Shore. Having long dreamt of getting out of Lonely Arms and making it in the music biz, Stepphy seems one step closer when she is accepted into the American Ingénue Singing Competition in Manhattan — until her father refuses to allow her to go. Miserable, her dreams dashed, and forced to fend off the advances of Fabian (David Reale), the creepy proprietor of the local Purple Mist plant — which has recently sprung a mysterious and ominous leak — Stepphy seems stuck in her go-nowhere town for good… until none other than Bobby Shore (Justin Chatwin) himself rolls into Lonely Arms with a car that needs repair. Part parody of 1950s sci-fi films and musicals, part mad fever dream, and featuring a score of sweetly quirky pastiche songs like "I Love You Baby Doll," BANG BANG BABY is a darkly funny meditation on small-town dreams, the burden of family responsibilities, and chemical mutation.(Agata Smoluch Del Sorbo, Toronto International Film Festival)
'Bang Bang Baby' | Trailer
Interview with Composer Darren Fung and Director Jeffrey St. Jules
Interview with writer director Jeffrey St. Jules.
'Bang Bang Baby' wins the Panavision Spirit Award for Independent Cinema Winner at SBIFF 2015.
Panavision Spirit Award for Independent Cinema Award Winner
The Panavision Spirit Award for Independent Cinema, given to a unique independent feature that has been made outside mainstream Hollywood, went to Bang Bang Baby (US Premiere), directed by Jeffrey St. Jules and starring Jane Levy, Justin Chatwin, Peter Stormare, and David Reale about a small town teenager in the 1960s who believes her dreams of becoming a famous singer will come true when her rock star idol gets stranded in town. But a leak in a nearby chemical plant that is believed to be causing mass mutations threatens to turn her dream into a nightmare. Winner received a Panavision camera package worth $60,000.

James Read, along with Will Eubanks judged the Independent category, commented that it was a tough call, but Bang Bang Baby was like "Lynch meets Hairspray. Original, cool underlying metaphors, visually very interesting, some really neat performances and sometimes very touching…a unique vision."
About The Film
Writer: Jeffrey St. Jules
Director: Jeffrey St. Jules
Cast: Jane Levy, Justin Chatwin, Peter Stormare, David Reale
Run Time: 85 min
Year Completed: 2014
Country of Origin: Canada
Premier Status: US Premiere
Santa Barbara based Ben Hyatt is founder of SantaBarbarians and gets to write about whatever interests him as a result. Interests include business, technology, film and anything community related.