SBIFF - Geoffrey Rush Receives the Montecito Award at Tribute
January 31, 2011
Ben Hyatt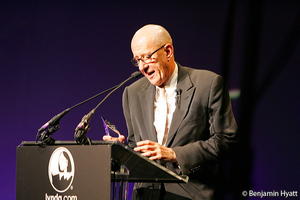 A packed Arlington Theater was the stage as Geoffrey Rush was presented the Montecito Award at the Santa Barbara International Film Festival. Rush was joined in the theater by wife Jane Menelaus, King's Speech Director Tom Hooper, Producer Gareth Unwin along with costars Helena Bonham Carter and Colin Firth. The night started with the red carpet where the stars took questions, posed for photos and signed autographs. SantaBarbarians and Jurors Billy Baldwin and Christopher Lloyd also made appearances on the red carpet.
The Montecito Award is given each year to a recipient whose style has been a contribution to film. Rush, fresh off his fourth Oscar Nomination for his role as speech therapist Lionel Logue in the King's Speech, was worthy selection for this year's award.
The main event began with a retrospective of Rush's brilliant career, moderated by Pete Hammond. Rush was animated, humble, funny and articulate. It became clear that Rush is very much an artist, someone that cherishes his job title - Actor. This is a man that loves what he does. A Best Actor Academy Award Winner that takes on roles big and small because he enjoys the work. A movie star so passionate about theater that immediately after the ceremony he was in a car on the way to the airport to catch a flight that would get him back to Australia in time to appear on stage in his current project, the play "The Diary of a Mad Man". Rush joked that he took on the play so that he wouldn't have to do awards season - leaving the grueling promotional work to his King's Speech costars.
Rush went on to explain that his work in theater grounded him and likened it to that of the sharpening of a pencil. Something that helps him hone his craft and really connect with his art. Something he needs in his life. He explained that when he was starting out as an actor forty years ago in Australia, films just weren't shot there. So if you wanted to act you did theater.
It was in 1996 that Rush got his breakout film role as the highly dysfunctional piano prodigy David Helfgott, a role that would win him his Oscar and thrust him onto the film mainstream. Further Academy Award nominations came in 1998 for Shakespeare In Love, in 2000 for Quills and of course 2011 for The King's Speech.
The retrospective wrapped up and it was Colin Firth that presented the Montecito Award to Rush. Firth spoke glowingly about his costar, something that has become a habit at award ceremony after award ceremony this season.
In Rush's thank you speech he talked about what a high this year has been with the accolades The King's Speach has received, his costars and his current project, the revival of his play from 21 years ago - Diary of a Mad Man. He went on about the fact that his wife Jane was with him and both his agent of 15 years and publicist of 13 years were in the audience. Rush explaned "this is as good as it gets" and then continued "but I want to stick around and do more work".
Rush closed with a heart felt thank you to Santa Barbara for the award and his wish that we put a moratorium on the use of the word 'celebrity'.
"I love being an actor. It's what I've always wanted to do. I love the heritage and the history - all the 2400 years of it in the Western World. I think that the obsession, the meaninglessness of certain aspects of celebrity is kind or ruining us." closed Rush.
King's Speech Director Tom Hooper, fresh off his Director's Guild of America Award win, finished the night off by presenting Bonham Carter, Rush and Firth with the SBIFF's Ensemble of the Year Award. A fitting award for the case of a film that has 3 Academy Award Acting category nominations - Firth (Actor in a Leading Role), Rush (Actor in a Supporting Role) and Bonham Carter (Actress in a Supporting Role).
The night was a triumph for the SBIFF team that seems to have a knack for attracting the best in the business to its' festival.
Past recipients of the Montecito Award: Julianne Moore, Kate Winslet, Javier Bardem, Bill Condon, and Naomi Watts.
Red Carpet Images
Colin Firth, Helena Bonham Carter, Tom Hopper, Christopher Lloyd and Billy Baldwin all walked the Red Carpet for the event honoring Geoffrey Rush.
Tribute Images
'The King's Speech' | Trailer
'The King's Speech' Clip: Colin Firth and Tom Hooper on Geoffrey Rush
Santa Barbara based Ben Hyatt is founder of SantaBarbarians and gets to write about whatever interests him as a result. Interests include business, technology, film and anything community related.