Robert De Niro receives SBIFF's 2012 Kirk Douglas Award for Excellence in Film
November 16, 2012
Ben Hyatt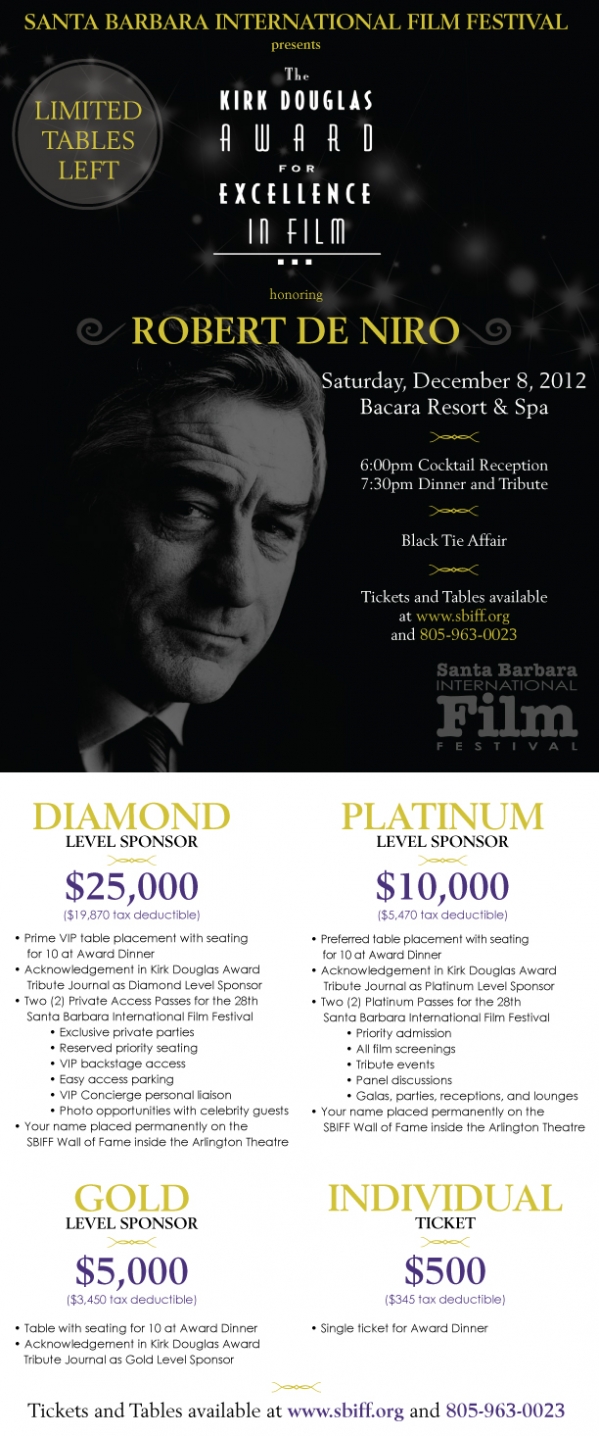 Santa Barbara, CA – Director, producer and Academy Award-winning actor ROBERT DE NIRO was chosen to receive The Santa Barbara International Film Festival's seventh annual KIRK DOUGLAS AWARD FOR EXCELLENCE IN FILM at a black-tie Gala dinner at Bacara Resort & Spa in Santa Barbara on Saturday, December 8, 2012.

Mr. De Niro accepted this honor from Mr. Douglas in recognition of his exceptional career spanning over four and a half decades, leading up to this year's highly anticipated Silver Linings Playbook for which he is already receiving accolades, including the Best Supporting Actor from the Hollywood Film Festival.

"I am a great fan, not only for what he does on screen, but also for establishing the Tribeca Film Festival…it brought joy back to lower Manhattan in the aftermath of 9/11,"commented Kirk Douglas. De Niro will join an illustrious group of past recipients of the award including Michael Douglas, Harrison Ford, Quentin Tarantino, Ed Harris, John Travolta and Kirk Douglas himself.

Widely celebrated by both audiences and his peers alike, Robert De Niro brings a striking intensity to each of his performances. His dedication to his craft coupled with his prestigious body of work, comprised of over 80 feature films, he has consistently demonstrated his versatility by stepping into the minds of an eclectic range of characters who stand out far beyond their time on screen. Having garnered six Academy Award nominations and winning twice, De Niro is firmly planted in the entertainment history books. From his film debut in Brian DePalma's Greetings (1968) to David O. Russell's upcoming Silver Linings Playbook, De Niro continues to bring life to some of cinema's most complex characters.

Robert De Niro began his career acting in several small roles before finally achieving his first bit of fame when he starred in the 1973 baseball film Bang the Drum Slowly. But he exploded onto the public's consciousness in Mean Streets (1973), opposite Harvey Keitel, for which he gained widespread critical acclaim and also marked the beginning of many collaborations with Martin Scorsese. In 1974, De Niro starred as a young Vito Corleone in Francis Ford Coppola's The Godfather: Part II. For his landmark performance, De Niro won the Academy Award for Best Supporting Actor and the film went on to win the Academy Award for Best Picture. De Niro reunited with director Martin Scorsese 1976, to play the mentally unstable Vietnam veteran Travis Bickle in Taxi Driver for which he earned an Academy Award nomination for Best Leading Actor. Keeping with the golden formula, he again teamed with Scorsese in Raging Bull (1980), and won the Academy Award for Best Leading Actor. De Niro continued on to appear in many landmark roles over the next several years, bringing audiences to simultaneous love and hate the gangsters of New York with such films as Once Upon a Time in America (1984), The Untouchables (1987), and Goodfellas (1990).

In 1991 De Niro brought audiences to the edge of their seats when he starred in the thriller Cape Fear. The gripping performance earned him an Academy Award nomination for Best Leading Actor. In 1993, De Niro showed his full versatility when he directed, produced and starred in the crime film A Bronx Tale. Proving to be a master of his craft, De Niro also flexed his comedy muscle in such films as Wag the Dog (1997), Analyze This (1999), Meet the Parents (2001), and Meet the Fockers (2004). Robert De Niro continued on to appear in such notable films as The Good Shepherd (2006), Righteous Kill (2008), and Stone (2010). This year will prove to be yet another big year with four films releasing including: Being Flynn, Red Lights, Freelancers and Silver Linings Playbook.

In 2001, in an effort to spur the economic and cultural revitalization of lower Manhattan following the attacks on the World Trade Center Robert De Niro, along with partners Jane Rosenthal and Craig Hatkoff, founded the Tribeca Film Festival. Since its inception, the Festival has attracted more than 3.5 million visitors and generated over $725 million dollars in economic activity. De Niro also co-founded the Tribeca Film Institute, where he has served as co-chairman of the board since its inception. The Institute has become an instrumental resource for filmmakers and arts education.

The Kirk Douglas Award for Excellence in Film serves as a fundraiser for the Santa Barbara International Film Festival, presented by lynda.com.
'Silver Linings Playbook' | Trailer
Santa Barbara based Ben Hyatt is founder of SantaBarbarians and gets to write about whatever interests him as a result. Interests include business, technology, film and anything community related.