Jessica Lange receives SBIFF's 2014 Kirk Douglas Award
November 10, 2015
Ben Hyatt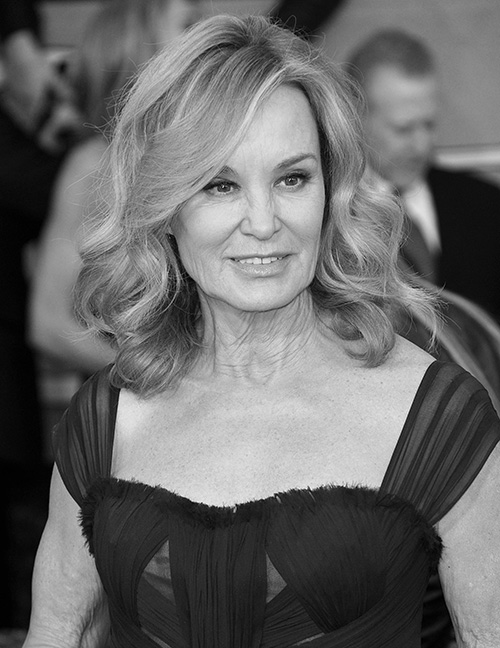 Two time Academy Award winning actress Jessica Lange will be presented with the Santa Barbara International Film Festival's (SBIFF) ninth annual KIRK DOUGLAS AWARD FOR EXCELLENCE IN FILM Sunday, November 16th at the Bacara Resort & Spa.
Lange will be joined by Kathy Bates, Ryan Murphy and Demi Moore at this black-tie Gala dinner. The event will take a look at Lange's expansive career and achievements and feature the award presentation.
Lange is in revered company, joining previous recipients Forrest Whittaker, Robert De Niro, Michael Douglas, Harrison Ford, Quentin Tarantino, Ed Harris, John Travolta and Kirk Douglas himself.
Commented Kirk Douglas, "Jessica Lange possess the three key elements in making it in this crazy business: talent, beauty, and intelligence…all of which have served her well and continue to do so. It is my honor to give her my award."
Lange has dazzled the screen with over thirty credits to her name. She made her Hollywood debut in John Guillermin's King Kong opposite Jeff Bridges and Charles Grodin, winning a Golden Globe for Best Acting Debut in a Motion Picture. She then permanently put her name on the map by receiving dual Academy Award and Golden Globe nominations in the same year for her challenging performances in Frances and in Sydney Pollack's memorable comedy Tootsie starring opposite Dustin Hoffman, for which she took home the Oscar for Supporting Actress. Lange won her second Oscar for her starring role in Blue Sky, opposite Tommy Lee Jones.
Lange has since amazed audiences with dynamic performances in such films as Country, opposite Sam Shepard for which she earned Oscar and Golden Globe nominations; Sweet Dreams and Music Box, both of which garnered her Academy Award nominations; the TV adaptation of A Streetcar Named Desire, for which she was nominated for an Emmy Award; Martin Scorsese's Cape Fear; Rob Roy with Liam Neeson; Tim Burton's Big Fish; Jim Jarmusch's Broken Flowers, among many, many others.
Lange has since won Emmy Awards for her performances in HBO's Grey Gardens, and the hit FX series American Horror Story. She recently wrapped Rupert Wyatt's The Gambler, also starring Mark Wahlberg and Brie Larson, and is currently in production on the Andy Tennant film Wild Oats, as well as her fourth season of American Horror Story.
The Kirk Douglas Award for Excellence in Film serves as a fundraiser for the Santa Barbara International Film Festival, which will celebrate its 30th Anniversary January 27 through February 7, 2015. SBIFF, presented by UGG® Australia, is dedicated to discovering and showcasing the best in independent and international cinema, offering 12 days of 200+ films, tributes and symposiums that range from American Indie films to world cinema and everything in-between. With its commitment to cultural diversity and powerful storytelling, SBIFF transforms beautiful downtown Santa Barbara, CA into a rich destination for film lovers, attracting more than 85,000 attendees. SBIFF brings to the forefront the importance and power of the art of filmmaking and continues its commitment to providing free children's education and community outreach programs through its 10-10-10 Student Filmmaking and Screenwriting Competitions, Mike's Field Trip to the Movies, AppleBox Family Films, 3rd Weekend and educational seminars. The annual 25% sale on passes and packages for SBIFF is currently running through August 31.
American Horror Story Clip
'The Gambler' | Trailer
Santa Barbara based Ben Hyatt is founder of SantaBarbarians and gets to write about whatever interests him as a result. Interests include business, technology, film and anything community related.