2015 Santa Barbara International Film Festival Montecito Award honoring Jennifer Aniston
January 31, 2015
Ben Hyatt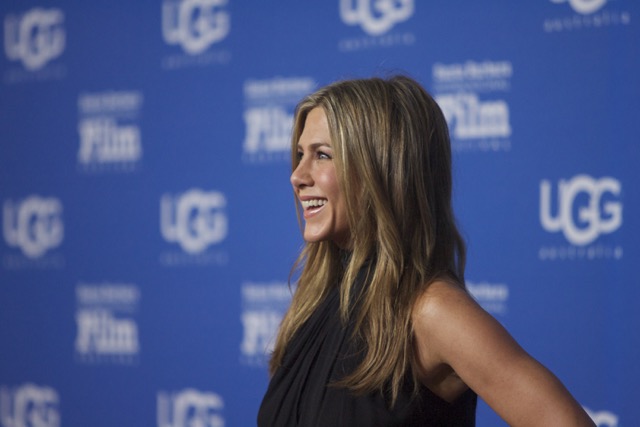 Santa Barbara, CA- The Santa Barbara International Film Festival is proud to announce that it will present the prestigious Montecito Award to Jennifer Aniston in honor of her celebrated career, including this year's inspirational performance in Cinelou Films' Cake, directed by Daniel Barnz. The Tribute will take place on Friday, January 30, 2015 at the historic Arlington Theatre during the festival's 30th edition.

The Montecito Award was created in recognition of a performer who has given a series of classic and standout performances throughout his or her career and whose style has made a major contribution to film. Previous recipients of the Montecito Award include such luminaries as Oprah Winfrey, Daniel Day-Lewis, Geoffrey Rush, Julianne Moore, Kate Winslet, Javier Bardem, Naomi Watts, and Annette Bening, who was the award's first recipient in 2005.

Aniston's most recent work includes her moving performance as Claire Bennett in Cake, where she plays a mother in pain over the loss of her child who struggles as she drives away her friends, husband, and even her chronic pain support group. This heart-wrenching story has rightfully garnered awards season buzz, with Aniston having already received SAG and Golden Globe nominations for Best Actress.

"Once in a while a performer who we thought we knew gets outside of his or her comfort zone and shows us the unexpected," said SBIFF Executive Director Roger Durling. "When that happens it is cause for celebration – and this is why the 2015 Montecito Award is bestowed upon Ms. Aniston."

Jennifer Aniston is a Golden Globe- and Emmy Award-winning actress, thanks to 10 seasons playing Rachel Green on the classic television comedy Friends. The role earned her five Emmy nominations, two SAG Award nominations and two Golden Globe nominations. During hiatus from Friends, Aniston pursued a film career, landing roles in Then There Was You, Picture Perfect, Dreams for an Insomniac, She's the One, Rock Star, The Object of My Affection (her first of many films with Paul Rudd) and Bruce Almighty. One of Aniston's most critically acclaimed roles was 2002's The Good Girl, for which she was nominated for an Independent Spirit Award. With the end of Friends in 2004, the San Fernando Valley native devoted herself full-time to her movie career, receiving critical praise for playing a depressed housekeeper in director Nicole Holofcener's Friends With Money. Adept at both indie films and studio features, Aniston has starred in such box office hits as The Break-Up, Marley and Me, He's Just Not That Into You, Horrible Bosses and We're the Millers. She was most recently seen in Life of Crime. Upcoming films include Horrible Bosses 2, in November, and She's Funny That Way, directed by Peter Bogdanovich, next year. Aniston made her directorial debut with the short, Room 10. She recently directed one of the Project Five short films, exploring the impact of breast cancer on people's lives. She is also a producer on Call Me Crazy, a Project Five film premiering on Lifetime in April.
'Cake' | Trailer
Santa Barbara based Ben Hyatt is founder of SantaBarbarians and gets to write about whatever interests him as a result. Interests include business, technology, film and anything community related.